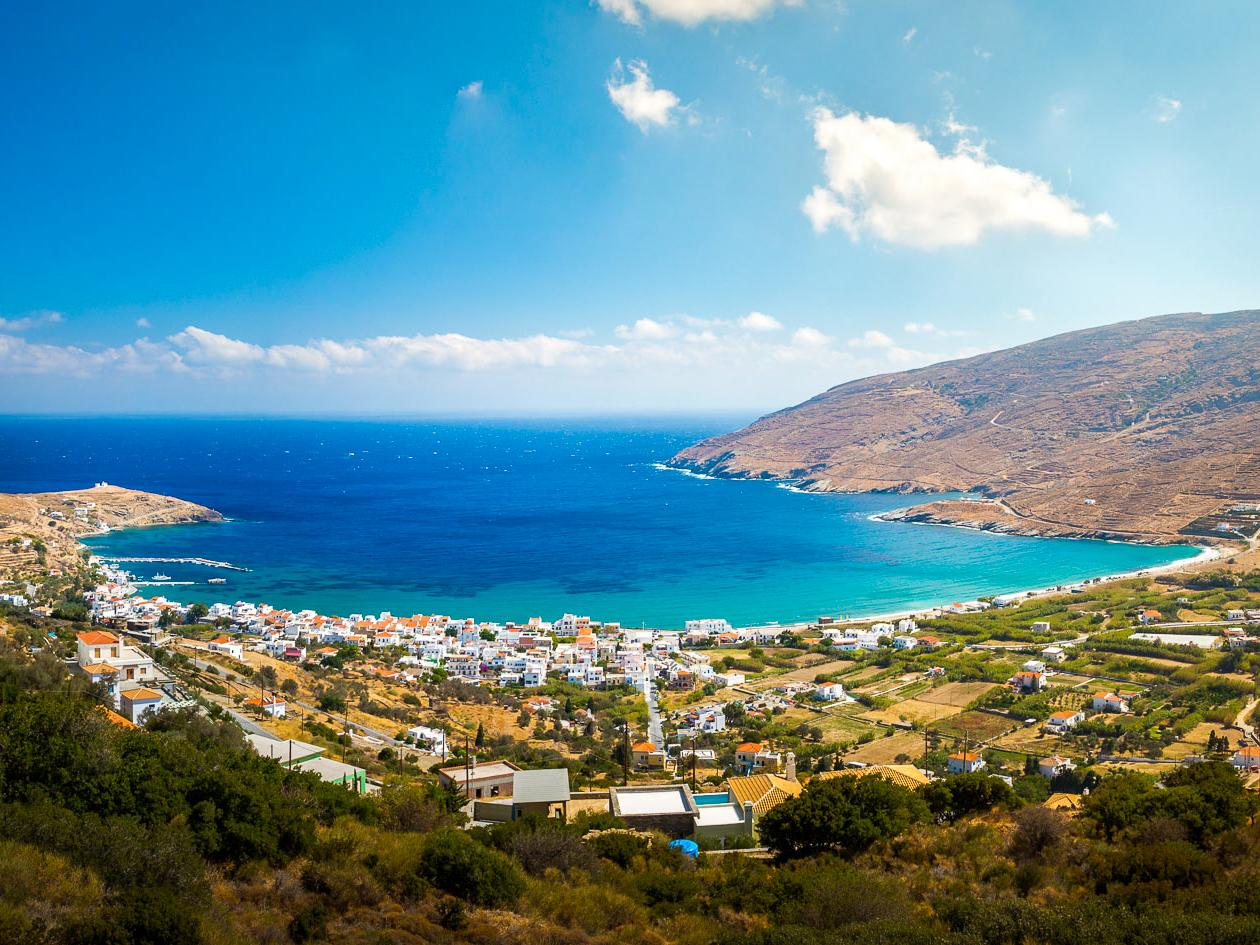 A unique village of Andros
Korthi is an amazingly beautiful region on the southerneastern part of Andros, with tens of small churches, stunning beaches and the traditional settlement. Korthi Bay - or else known as Gialos - catches the eye of its visitors because of its traditional buildings and impressive mansions. People call it Andros' Gem. Korthi Bay is the latest settlement in the area, built only when the locals stopped being afraid of pirate attacks and decided to live near the sea. It's located among Mount Gerakones and Mount Rachi. Visitors can find taverns, commercial shops, pastry shops, pharmacies and local services on the Bay.
Things to do in Korthi
Among Rachi and Gerakonas lies the fertile valley of Korthi and the impressive ravine of Dipotamata, with its many watermills and its river.
The Castle of Faneromeni odors in the region, having been the largest medieval town in Andros. It's located south from Korthi Bay at a 600m height, with majestic views of the Aegean. 
On the 15th of August, the church of Faneromeni celebrates and a fair takes place. In Korthi, other than tens of small churches, there are also the Byzantine churches of Saint Nicholas of Ano Korthi and the church of Saint Ioannis. Saint Ioannis is the oldest church in Andros, built between the 5th and 8th century, with a cypress sprouting out of its roof. 
The monastery of Tromarchion is also located nearby. It's a beautiful and well preserved monastery with an elaborate altarpiece and a captivating view of the southerneastern part of Andros.
Right before you leave Korthi, after the mountainous village of Mesa Vouni, is the monastery of Panachrantou, where the elder Evdokimos is the Abbot.  In the settlement of Mosionas, in Pano Korthi, there's the School of Agia Triada, the first school of Andros, built in 1814 by the monk Samuel Skazi.
Near Korthi visitors can also find Saint George Faralis, a small picturesque church, surrounded by springs, tanks and large plane trees, with amazing Aegean views. It's located next to the Korthi - Gavrio road, after Kapparia and before Zaganiari village.
Korthi and the nearby villages
On the hillsides of Mount Raches reside some of the most beautiful villages of Korthi. 
Aidonia village, with lush vegetation, dovecotes and small rivers. There's also a small village called Ammonakliou. Mousionas, a stone built village with traditional houses and Piso Meria villages are also worth a visit.  On the hillsides of Mount Gerakonas, the villages of Kapparia and Zaganiari are located. Zaganiari is a mountainous village that lies close to Stavropeda and over the settlement of Zagora.
Nearby beaches
Korthi beach (Mylos), the windless port of Agia Aikaterini, Vintsi and Tis Grias to Pidima, right over the hill, are the best beaches to visit. Also, the beaches of Kremmides, Plaka, Apothikes and Chalkolimionas are located in a relatively close proximity. 
---
---