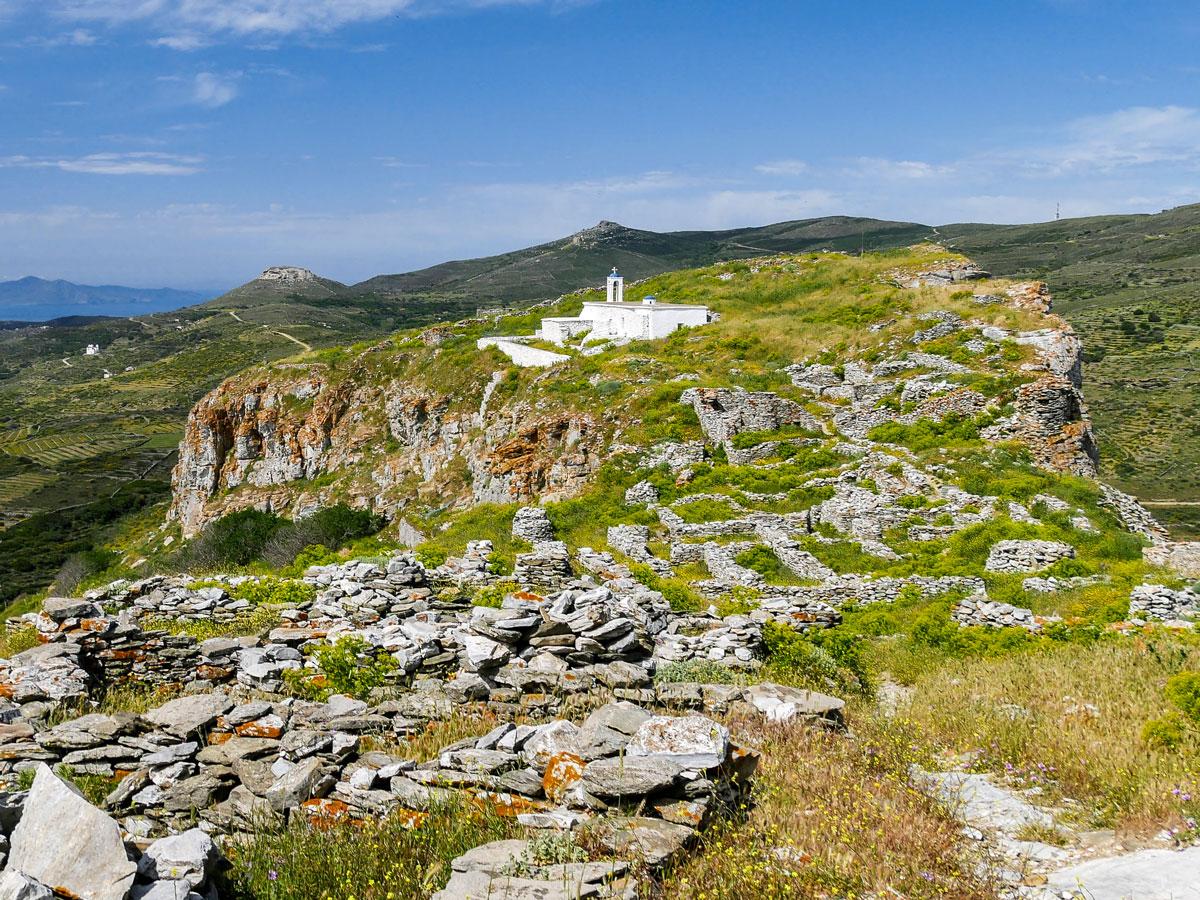 The Castle of Faneromeni in Andros
The Castle of Faneromeni or otherwise Upper Castle is located near the Village of Kochylos in the area of Korthi. It is the largest and most powerful city of Andros that existed during the Middle Ages. The Castle is built on an impressive plateau north of Korthi Bay, at an altitude of about 560 meters. The view from above is impressive and the wider area is ideal for walking and contemplation.
Upper Castle is the largest of Andros and has visual contact with Lower Castle on the islet of Chora. It was built by the Venetians who fortified the island immediately after its conquest in 1207. During the Turkish occupation, the local residents, in their effort to protect themselves from pirate raids, found refuge in the abandoned Venetian castle, which could protect about 1000 inhabitants. Identical to the Lower Castle is the Castle of Makrotandalos, the third Venetian castle of Andros.
The castle still has ruins of walls, fortification towers, shelters and cisterns dating back to the Venetian occupation as well as houses of stone and mud dating back to the period of the Turkish occupation. Its fortification is not sufficiently preserved, but its entire alignment on the plateau is depicted. The rocks rise vertically on all sides, creating a natural fortress. At this point there is also the church of Faneromeni, which was originally a Frankish building and then was converted by the locals into an Orthodox church dedicated to the Assumption. A building that survives until today and is a pilgrimage to the place on August 15th.
The Legend around the Castle
The Castle of Faneromeni is also referred to as the Castle of the Old Lady. According to legend, the Turks who tried in vain to occupy the castle, sent an old woman with her pregnant daughter to ask for help. In the evening the old woman opened the gate, the Turks entered and slaughtered all the inhabitants. Then the old woman, regretting her action, climbed on a high rock and committed suicide by jumping into the sea. Thus, the memory of the old woman was etched in two of the sights of the area: "The Old Lady's Castle" and the beautiful beach "Tis Grias to Pidima".
---
---